Welcome to our Events section!

Oct. 7, Gourmet aperitif in collaboration with Chef Roberto Zanchetta, Luigi Guffanti cheeses, Cantine Marchesi di Barolo
October 7 @ 6:00 pm

-

9:00 pm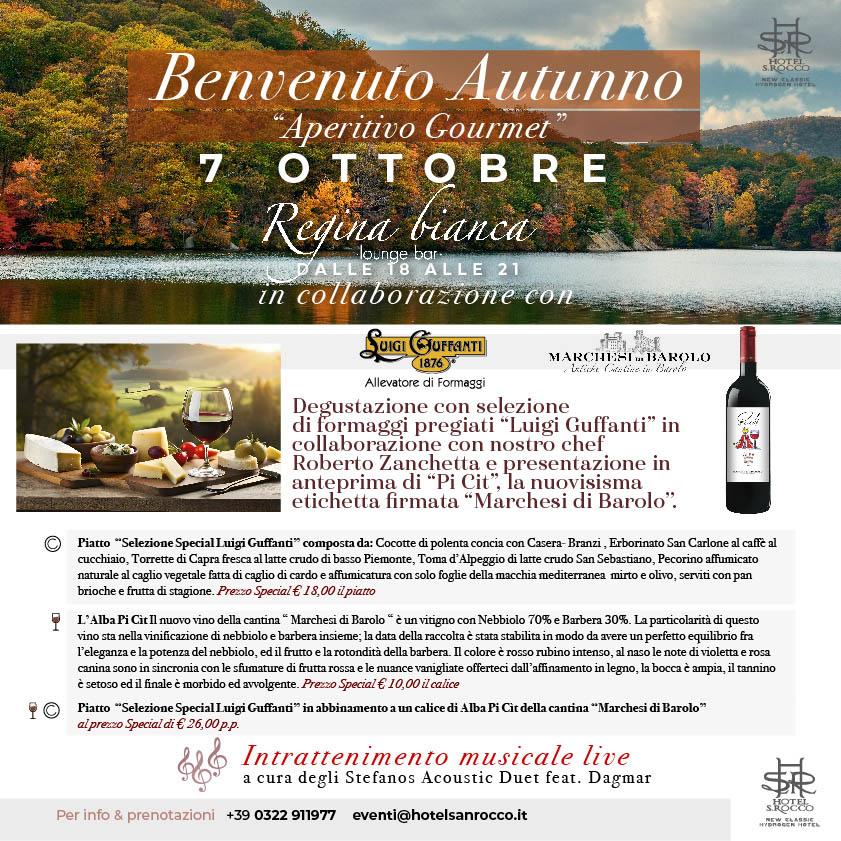 Gourmet tasting @ ReginaBianca Lounge Bar, 6 to 9 p.m.
with selection of fine cheeses "Luigi Guffanti" in collaboration with our chef Roberto Zanchetta and preview presentation of "Pi Cit," the newest label signed Cantine Marchesi di Barolo.
Plate "*Selection Special Luigi Guffanti" consisting of :
Cocotte di polenta concia with Casera- Branzi , Erborinato San Carlone coffee spooned , Torrette di Capra fresca al latte crudo di basso Piemonte , Toma d'Alpeggio di latte crudo San Sebastiano , Pecorino natural smoked with vegetable rennet made from thistle rennet and smoked with only leaves from the Mediterranean myrtle and olive trees , served with pan brioche and seasonal fruit .
Special Price €18.00 the plate 
The Dawn Pi Cìt  The new wine from the winery " Marchesi di Barolo " is a varietal with Nebbiolo 70% and Barbera 30%, The particularity of this wine lies in the vinification of nebbiolo and barbera together; the date of the harvest was established in order to have a perfect balance between the elegance and power of nebbiolo, and the fruit and roundness of barbera.The color is deep ruby red, the nose notes of violet and dog rose are in sync with the nuances of red fruit and vanilla nuances offered to us by the aging in wood, the mouth is broad, the tannin is silky and the finish is soft and enveloping.
Special Price €10.00 the goblet 
Dish "Special Luigi Guffanti Selection" in paired with a glass of Alba Pi Cìt from the winery " Marchesi di Barolo At the special price of € 26,00 p.p
 Hotels San Rocco
Saturday, October 7, 6 to 9 p.m.
Location: Regina Bianca Lounge Bar @ Hotel San Rocco